NeighborWorks America
National NeighborWorks Association and NeighborWorks America are two distinctly separate, unaffiliated, independent organizations.
NeighborWorks America is a 501(c)3 public not-for-profit organization. National NeighborWorks Association (NNA) is the trade association 501(c)6 trade association.
NeighborWorks America is comprised of 247 organizations working in 4,400 urban, rural and suburban communities. For these organizations, representing our members' concerns including funding, regulatory and other advocacy initiatives, as well as being the voice of our network to NeighborWorks America.
NNA continues to advocate for Congressional funding that network members leverage on a national average of $102 for every $1 of appropriated funds (FY21).
Click on the photo below to view the FY21 NeighborWorks America's aggregated national impact.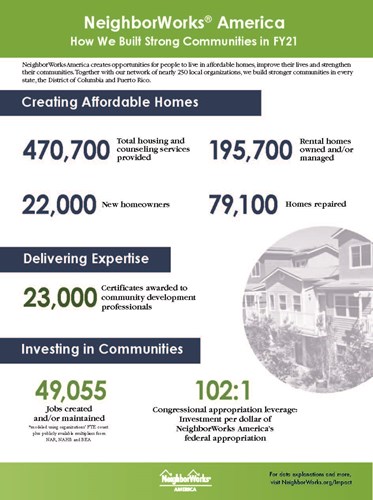 | | NeighborWorks® America Core Appropriation by Fiscal Year |
| --- | --- |
| FY 2022 Enacted: | $163 million (core) + $3 million (shared equity) |
| FY 2021 Enacted: | $163 million (core) + $2 million (shared equity) |
| FY 2020 Enacted: | $157.5 million (core) + $1 million (shared equity pilot) |
| FY 2019 Enacted: | $150 million (core) + $2 million (shared equity pilot) |
| FY 2018 Enacted: | $140 million (core) |
| FY 2017 Enacted: | $140 million (core) |
| FY 2016 Enacted: | $135 million (core) + $40 million (National Foreclosure Mitigation and Counseling program - final year) |